Book reviews: Bibliomaniac, by Robin Ince | Once Upon a Time, by Oliver Darkshire | Book of Eliot's Bookish Lists, by Henry Eliot | The Leftovers of the Day, by Shaun Bythell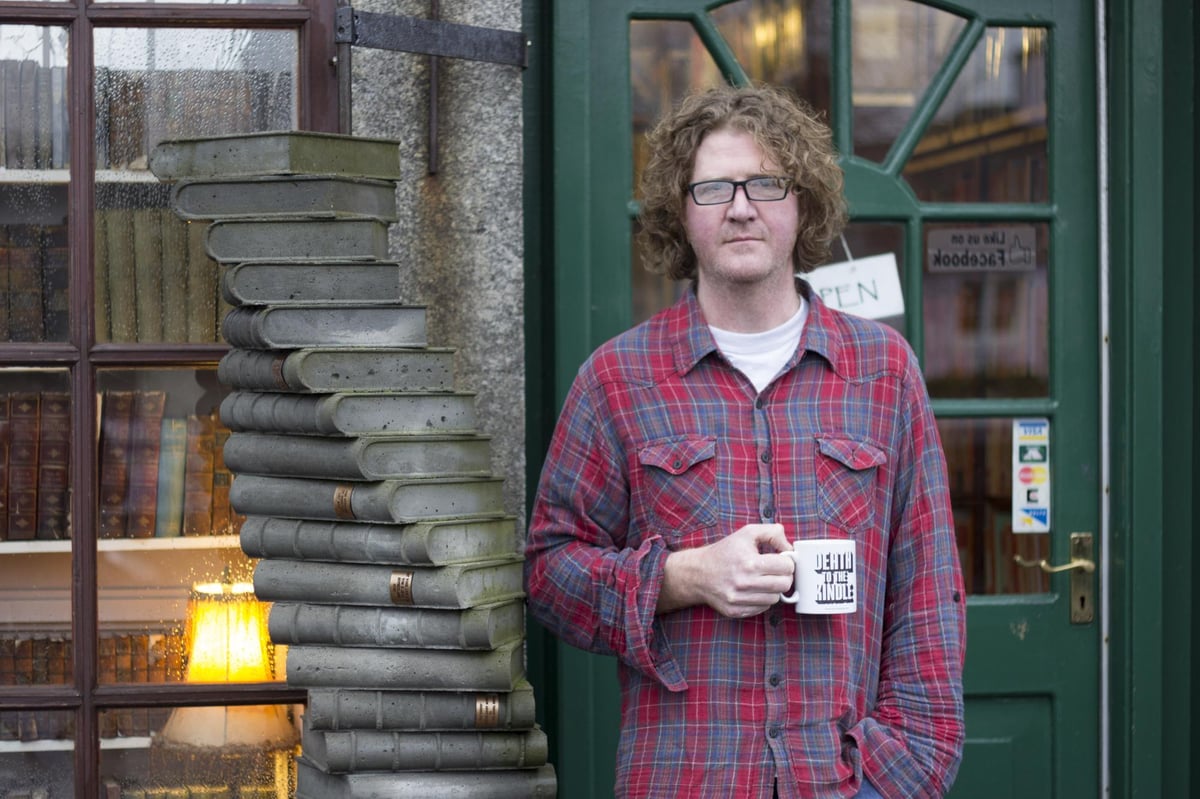 Bookseller and author Shaun Bythell outside the bookshop in Wigtown PIC: Ben Please
It won't be a big surprise that I have a penchant for books about books. I treasure my copies of The Book Of Literary Lists by Nicholas Parsons, The Madman's Library by Edward Brooke-Hitching, The Library: A Fragile History by Arthur der Weduwen and Andrew Pettegree, Dennis Duncan's Index, A History Of The and many more. 'others. It was therefore a pleasure to be in the company of these gentlemen, sometimes in person.
Robin Ince begins its tour of more than a hundred independent bookstores, Bibliomaniac, with a confession. A neurodivergence expert said his online activity showed clear indicators of ADHD. His book is subtly melancholy – the nights in anonymous hotel chains, the public transport, the waves of angst and ecstasy, the voracity of the collector. Ince loves gory, cheap fiction as well as esoteric science, genuine science, award-winning writing, and forgotten writing. The memoirs are an oblique snapshot: "the independent bookstore and the ambition of those who make it is of an Englishness in which I wish to believe, even if it is perhaps only bookish". It's a book with a remarkable amount of cake, and I jotted down a few "must-haves".
The geek chimes easily with Once Upon A Tome, Olivier Darkshireabout his work at Sotheran's rare book and print shop in London. The opening chapters convey a sort of Dungeons and Dragons feel as a parade of Smaugs, Draculas, the Spindleman, Cryptids, and Suited Gentlemen pass through. Of all these books, Darkshire's is the most specific about the real work of selling old and used books. If you're like me, you know very well that "good copy" has a fairly exact and improbable meaning. What's more endearing is the care with which he leans over the copies and the narrative of being truly framed. Beneath the puzzlement and sometimes explosive irritation, there's a very sweet book here, about unlikely friendships and little epiphanies. Kindly enough, he describes the career of an antiquarian bookseller as one where "you probably have to be playful, but I think I'd rather have moderate success than suffer the kind of scrutiny placed on the spectacular ".
I have great admiration for Henry Eliot, because his books on Penguin Classics and Penguin Modern Classics are beautiful and dangerous works. Ince describes the moment the gazelle wins a trophy, and I know it only too well: Eliot's books have been my equivalent of big game almanacs. This book is half a delight and half a glove. It is, I think, fair to say that a book with "bookish" in the title might be aimed at the bookish type of person. In that case, roll up your sleeves, Mr Eliot, and we'll see how brave you are. There is fun in amusement on a list of birds mentioned by Shakespeare or author's dogs; a list of Keats' Odes or the names of the Nine Muses or the Three Musketeers seems like small fry. It's pretty cute to see a spiral diagram of the bonds in Schniztler's La Ronde, but I'll point you to Gael Turnbull's poem written on a Möbius strip. Dickens' list of villains is pretty thin, but not Silas Wegg or Grandpa Smallweed or John Jasper? I would have thought that one of each book would have been a better fulfillment. That said, I learned some things, laughed about them, and jotted down a few more titles to pick up.
By one of the strange associations of the literary world, Oliver Darkshire's book is blurred "Think of a bookseller's diary but with a lot more of Bernard Black…" and the author of A bookseller's diary, Shaun Bythell, published a third volume of his journals. Again, he ventriloquizes quite well while being grumpy. But I must – either by journalistic obligation to protect its sources, or by theological respect for the seal of the confessional – abstain from saying much about it; especially since, once again, I appear there. Why I'm "Stuart Kelly" but others are honored with pseudonyms I don't know. Nevertheless, I can invoke the strategy of Molière's Pucelle: I gave it to my Mum and asked her what she thought of it. She thinks it's an entertaining and easy read, and can't believe how supportive he is of his customers. She's glad he enjoyed the Scottish broth she once cooked for him, and even happier that the person he describes as exceptionally rude is now singing with the Eternal Chorus. She can't change the idea that he's a bit of a thug, but she can't help but love him. If he makes a fourth volume, and I'm sure he will, I might publish an almost antiquarian tome called A True and Sincere Series of Refutations, Revisions, Corrections and Castigations on Mr Bythell's Memory.
Loving books is a rather harmless pastime. All four remind me that I'm no aberration for being more interested in a full Zola than anyone on Strictly Come Dancing.
Bibliomaniac, by Robin Ince, Atlantic Books, £16.99; Once Upon A Tome, by Oliver Darkshire, Bantam Press, £14.99; Book of Eliot's Book Lists, by Henry Eliot, Private Books, £12.99; Leftovers, by Shaun Bythell, Profile, £16.99. Shaun Bythell appears at the Wigtown Book Festival on September 25, www.wigtownbookfestival.com